BOOK CHAPTER: LOOKING THROUGH A GLASS DARKLY – TRANSPARENCY AS A MISGUIDED REGULATORY INSTRUMENT IN CORPORATE GOVERNANCE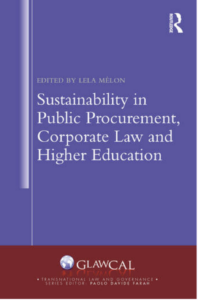 Authors  Wafa Khlif, Finn Janning and Coral Ingley have published a chapter (Looking through a glass darkly – transparency as a misguided regulatory instrument in corporate governance) in the book Sustainability in Public Procurement, Corporate Law and Higher Education.
The  book sheds light on contemporary changes in law and Policy at the global level to efficiently answer to environmental and social issues corresponding to the traditional approach of limiting the regulatory and Policy changes to a singular field or discipline: tackling the inherent unsustainability of corporate laws or incentivising the offering of sustainable finance to stimulate the transition towards sustainable practices.
Again, it provides a new viewpoint and approach of simultaneously regulating seemingly non-connected fields in order to provide a fertile ground for a truly organic change towards sustainable outcomes. It addresses diverse questions of sustainable transition of the three specific fields to support sustainable practices in public procurement, private market transaction and in educating future business leaders and legal experts by incorporating sustainable concerns as the underlying guiding principles of their conduct.
 It also translates scientific findings into a practical format that can be used by diverse stakeholders searching for information and solutions in their respective professional fields. The underlying assumption is that a simultaneous action in the three respective fields of public procurement, corporate law and higher education brings about more coherent and interconnected results that incentivise further action and changes towards sustainable practices.
The book furthers the idea of policy coherence by building upon the findings in the field of public procurement, corporate law and practice and higher education curricula. By identifying the barriers in the three respective fields for sustainable action and proposing solutions for either eliminating or minimising those barriers at the EU level, the book calls for further changes in the respective fields as well as for considering the spill-over effects of these policies on other fields.
This book is published by Routledge (Taylor & Francis Group)      
For more information, please access the following link: Sustainability in Public Procurement, Corporate Law and Higher Education

Wafa Khlif, Professor, Dr/HDR
Finn Janning, Assistant Professor, Toulouse Business School
Coral Ingley, Associate Professor, AUT University