Research Handbook on Corporate Board Decision-Making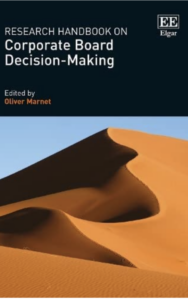 With a state-of-the-art perspective on corporate board decision-making that encourages thinking outside the box, this cutting-edge Research Handbook provides fresh insights on the meaning, value, contribution, quality and purpose of the decision-making of those charged with corporate governance.
Expert contributors reflect on what boards decide, what they focus on when making these decisions, and how they endeavour to balance and satisfy diverse stakeholders, organisational, and societal interests. Chapters expand the research field of board decision-making, exploring related issues such as the impact of regulations and guidelines on decision-making quality; behavioural and cognitive factors in judgement formation; decision-making under extreme circumstances; fraud and bias; and independence, competence, ethics and diversity. Thought-provoking and perceptive, the book analyses board decision-making in practice, looking closely at corporate social responsibility, sustainability strategies, and governance best practice.
With a broad and global range of case studies, this innovative Research Handbook will prove vital for students and scholars of corporate governance. Providing a comprehensive understanding of what motivates and influences the quality, purpose and rationale of board decision-making and the factors which interfere with good judgement, it will also be a key resource for board directors, policymakers and regulators working in corporate board governance and external audit.
Publisher- Edward Elgar Publishing
Authors: Geofry Areneke, Danson Kimani and Teerooven Soobaroyen
For more information, please visit the following link: Research Handbook on Corporate Board Decision-Making