Rencontres R2D2 & PRME: la responsabilité sociétale dans l'enseignement supérieur / R2D2 & PRME Event: social responsibility in higher education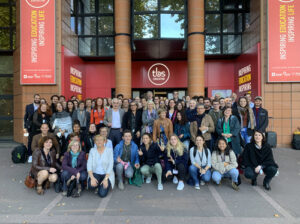 Du 13 au 15 octobre 2021 – à TBS Education.
La responsabilité sociétale dans l'enseignement supérieur : de la collaboration à l'action.
Face à la pandémie actuelle qui a fait naître un nouveau sentiment d'urgence quant à l'état de notre monde, le temps est venu de passer à l'action en réunissant le monde académique et le monde étudiant pour implémenter des actions à impact collectif.
TBS Education a ainsi proposé aux réseaux de la Conférence des Grandes Écoles (CGE) – Les Rendez-vous des Référents du Développement Durable (R2D2) et du Chapter France-Benelux PRME de se réunir afin de combiner leurs forces du 13 au 15 octobre 2021 sur le campus de Lascrosses à Toulouse. Les associations étudiantes suivantes ont également répondu à l'appel: RESES, BNEM, BNEI, Pour un réveil écologique and UNEAP.
Cet évènement de 3 jours a offert une excellente opportunité aux représentants DD & RSE des écoles et de leurs parties prenantes d'unir les forces et de partager les idées et leurs expériences. Ouvert aux universitaires, membres du personnel, étudiants et autres acteurs intéressés par la promotion du DD dans l'enseignement supérieur en France, en Belgique, aux Pays-Bas et au Luxembourg, il a permis également de dessiner des perspectives de synergies et de collaborations futures en termes de méthodes pédagogiques, de projets de recherche, d'opérations sur les campus et de sensibilisation communautaire.
Pendant ces 3 jours, ont été abordés plusieurs sujets lors de présentations en plénière et d'une quinzaine d'ateliers collectifs. Pendant le premier jour, la question de l'éducation pour un avenir durable en France a été soulevée à travers la RS à TBS et les activités de la commission DD&RS de la CGE et de ses partenaires. Lors de la deuxième journée de travail, le développement de notre impact de la prise en compte des enjeux DD & RS par une approche systémique et collective a été abordé avec un jeu sur la possibilité d'intégrer des connaissances et des compétences DD&RS dans toutes les formations du supérieur d'ici 2025 et une réflexion sur la relation entre art et résilience. La dernière journée a permis de présenter des projets, initiatives et réflexion pour une éducation au management responsable au sein de l'enseignement supérieur permettant de mettre en avant les opportunités entre les 3 « B » : Business, Business Schools et Business Students.
From 13 to 15 october 2021 – at TBS Education.
Social responsibility in higher education: from collaboration to action.
In the face of the current pandemic, which has given rise to a new sense of urgency about the state of our world, the time has come to take action by bringing together academic and student to implement concrete actions with collective impact.
TBS Education therefore proposed to the Conférence des Grandes Écoles (CGE) – Les Rendez-vous des Référents du Développement Durable (R2D2) and the France-Benelux PRME chapter to join forces from 13 to 15 october 2021 on the Lascrosses campus in Toulouse. The following student associations also responded to the call: RESES, BNEM, BNEI, Pour un réveil écologique and UNEAP.
This 3-day event provided an excellent opportunity for SD & CSR representatives from schools and their stakeholders to join forces and share ideas and experiences. Open to academics, staff, students and other stakeholders interested in promoting SD in higher education in France, Belgium, the Netherlands and Luxembourg, it also provided an opportunity to outline future synergies and collaborations in terms of pedagogical methods, research projects, campus operations and community awareness.
During the 3 days of the event, several topics were discussed in plenary presentations and in about 15 orkshops. The first day included discussions on education for a sustainable future in France through an overview of SR initiatives at TBS and presentations on the activities of the CGE's SD&RS commission and its partners. The second day was centered around creating impact through a systemic and collective approach. This was addressed with a game on the possibility of integrating SD&RS competencies in all higher education courses by 2025 and a reflection on the relationship between art and resilience. The last day included projects, initiatives and reflections on responsible management education, highlighting the opportunities between the 3 Bs: Business, Business Schools and Business Students.